To the knowledge base
Knowledge document #56
FRITZ!Box 7520
This support document is available for the following products:
Assignment of the cables and sockets
The FRITZ!Box has various sockets for connecting it to your DSL line and connecting your telephony devices to it. Here you will find the assignment of the cables included with delivery as well as of the FRITZ!Box's sockets so you can use your own cables, for example.
Note:The FRITZ!Box is available in several different product variants, each of which is delivered with different components. For the exact contents of the package, see the information printed on the FRITZ!Box package.
1 DSL cable (RJ45/TAE)
Pins 4 and 5 on the RJ45 plug lead to Pins 1 and 2 on the TAE plug (see fig.).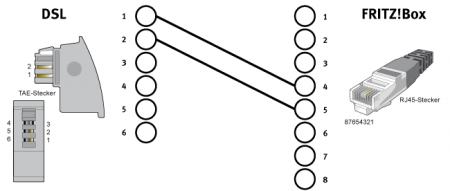 Fig.: Assignment of the DSL cable
2 RJ11 socket of "FON" extension
The two middle pins 3 and 4 are assigned on the RJ11 socket.
3 TAE socket of "FON" socket
The TAE socket is assigned in such a way that contacts 1 and 2 on TAE plugs must be assigned (see fig.).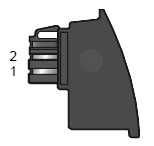 Fig.: Contacts 1 and 2 on a TAE plug