To the knowledge base
Knowledge document #3329
FRITZ!Box 6820 LTE
This support document is available for the following products:
Mesh with FRITZ!
No matter whether you have a large apartment, house with several floors, or a spacious garden - sometimes the FRITZ!Box's Wi-Fi network alone is not sufficient to seamlessly cover every single corner of the home with Wi-Fi. However, not only great distances can affect the Wi-Fi signal so that it barely reaches or does not reach some rooms, impenetrable walls and signal shielding materials can have the same effect.
You can simply add additional FRITZ! products with with Wi-Fi functionality to your home network, for example FRITZ!Repeater or FRITZ!Powerline, so you can still surf, stream, and game at top speed everywhere even in such an environment. The AVM Mesh technology combines the individual Wi-Fi networks of the FRITZ! products into one large Wi-Fi and ensures that your devices always have optimum access to the internet and home network wherever they are.
Central management of all Wi-Fi settings
As the hub of the Mesh (Mesh Master), the FRITZ!Box automatically transmits its Wi-Fi settings, such as account information, guest access, or schedule to all of the other FRITZ! products in the home network (Mesh Repeater). This way you only have to set up a single Wi-Fi connection on your smartphones, tablets, and notebooks to gain access to the home network and your FRITZ!Box's internet connection via every one of your FRITZ! product.
Mesh Wi-Fi steering for optimal performance
Mesh Wi-Fi steering optimizes the performance of the entire home network. As the Mesh Master, the FRITZ!Box automatically steers wireless devices to the wireless access point with the best Wi-Fi reception. FRITZ!products with dual Wi-Fi also always direct wireless devices that also support the 2.4 and 5 GHz frequency bands to the more powerful Wi-Fi network.
Central overview for home and guest network
The FRITZ!Box's Mesh Overview always shows you which devices in the home and guest network are currently active, how they are connected with each other, and which throughput rates are available over the individual connections. And, if an update is available for a FRITZ! product, you can install it directly via the Mesh Overview with the click of a mouse.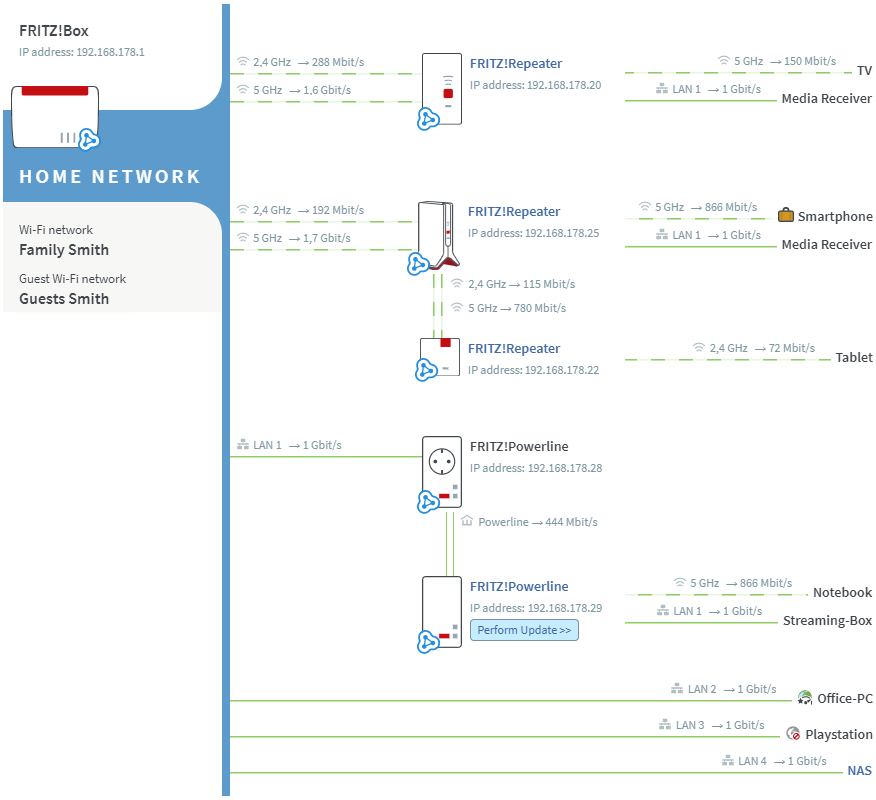 Fig.: Mesh Overview in the FRITZ!Box user interface
Mesh functions for telephony and smart home
When using an additional FRITZ!Box as a Mesh Repeater, you can also use the telephone numbers configured in the Mesh Master with telephones connected to the Mesh Repeater and access a shared telephone book with them. The Mesh Master centrally configures and controls smart home devices connected to the Mesh Repeater. This way you can combine smart home devices connected to the Mesh Master with smart home devices connected to the Mesh Repeater to a group and then switch them together, for example.
Flexible networking via Wi-Fi, powerline, or LAN
Fast Wi-Fi connections to the FRITZ! products require fast data forwarding within the home network. To guarantee this, Mesh with FRITZ! uses innovative technologies and all available transmission media:
FRITZ!Repeaters with dual Wi-Fi use intelligent crossband repeating to ensure that data is transmitted to the FRITZ!Box via Wi-Fi without speed loss.
FRITZ!Repeaters with triband Wi-Fi are connected to the FRITZ!Box via their own 5 GHz Wi-Fi network and ensure stable connections with high data throughput levels.
FRITZ!Powerline adapters with Wi-Fi functionality are integrated into the home network with gigabit speed using your home's electrical wiring, which means you can use them outside the Wi-Fi range of your FRITZ!Box.
You can also use network cabling to connect all FRITZ! products with LAN ports to the home network, which means that you can also place them outside the Wi-Fi range of your FRITZ!Box.
Mesh with FRITZ! also supports the cascading of FRITZ! products. This way you can also connect a FRITZ!Repeater with another Mesh Repeater in your home network via Wi-Fi and integrate it into the Mesh, for example.
Simple configuration at the touch of a button
It is extremely easy to integrate new FRITZ! products into the Mesh: Simply push the Connect or WPS button on the FRITZ!Box (Mesh Master) and the new FRITZ! product - that's all!
Now it is even easier to automatically set up the Wi-Fi connection via WPS (Wi-Fi Protected Setup): Simply push the Connect or WPS button on any FRITZ! product in the home network, and you can quickly and easily connect any WPS-compliant smartphone, tablet, or notebook with your Wi-Fi.
Expanding the Wi-Fi through Mesh