To the knowledge base
Knowledge document #3448
FRITZ!Box 5491
This support document is available for the following products:
VPN with FRITZ!
You want to establish VPN connections to the FRITZ!Box? ✓ Here you can find the instructions for all operating systems.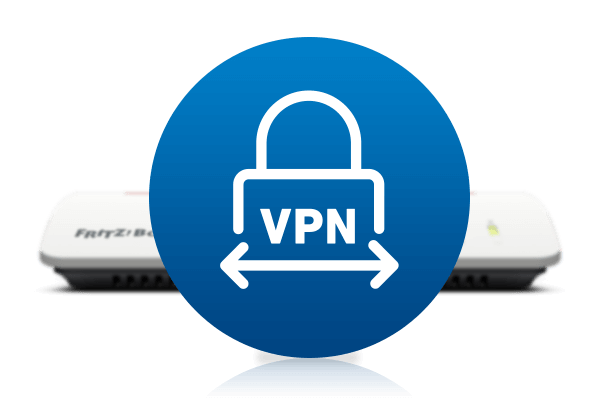 A virtual private network (VPN for short) makes bug-proof encrypted communication over the internet with your FRITZ!Box and all devices in your home network possible.
This allows you to access shares and devices in your FRITZ!Box home network from anywhere in the world and you can copy files from your NAS system at home to your smartphone or change the settings of a smart home device.
The VPN remote peers, for example your FRITZ!Box and your smartphone, establish an encrypted connection between each other. This connection functions like a bug-proof tunnel through which data is transmitted between the two peers.
You can use any smartphone, computer, or tablet to establish a VPN connection to the FRITZ!Box. Or, you can connect two FRITZ!Boxes at different locations with each other.
VPN with MyFRITZ!App
It is especially easy to establish VPN connections in Android with the MyFRITZ!App. Install the MyFRITZ!App on your smartphone or tablet, log in to your FRITZ!Box, and set up the VPN connection in the settings of the app with just a single click.
Then you can always establish a VPN connection to your FRITZ!Box in the MyFRITZ!App under "Home Network" when you are away from home. As soon as the connection is established, you can use a direct link in the MyFRITZ!App to access your FRITZ!Box and other devices that have their own web interface, for example a NAS system.
Connecting individual devices with the FRITZ!Box via VPN
Since the FRITZ!Box establishes VPN connections according to the standard IPsec (Internet Protocol Security), many devices can establish VPN connections to the FRITZ!Box with the solution included in the operating system without additional software. For example, this is the case with devices with Android, iOS, macOS, and Linux. If you want to set up a VPN connection with one of these devices, proceed as described in our guide:
In Windows, however, the VPN connection cannot be established using on-board tools. Instead, you can use the free FRITZ!VPN software.
Connecting two FRITZ!Box home networks via VPN
In addition to granting individual devices access, you can also use VPN to connect two different FRITZ!Box home networks at different locations so that the devices in each home network can access all of the devices in the other home network:
Connecting the FRITZ!Box with a company's VPN
Depending on which VPN solution your company uses, you may also be able to establish VPN connections to a VPN server in your company. Although you can access devices in the company network over such connections, it is not possible to access devices in your home network from the company network: