To the knowledge base
Knowledge document #3668
FRITZ!Box 7582
This support document is available for the following products:
Setting up FRITZ!App Smart Home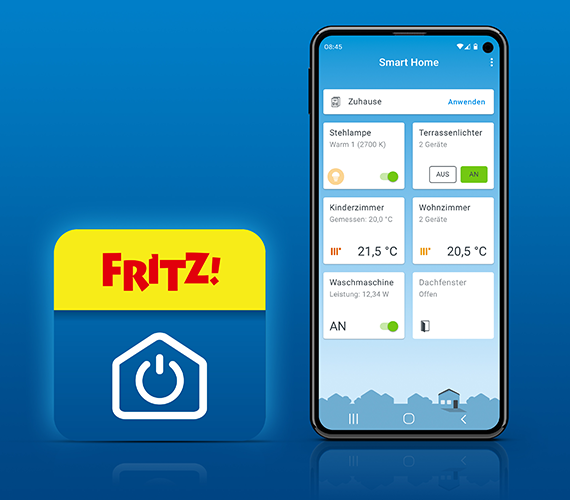 You can use FRITZ!App Smart Home to operate your smart plugs and radiator controls, for example FRITZ!DECT 200 and FRITZ!DECT 301, in the home network or over the internet. Simply install FRITZ!App Smart Home on your smartphone or tablet and register the app once with your FRITZ!Box as described here.
Then you can switch your smart home devices in the home network and also securely over the internet from anywhere. FRITZ!App Smart Home also displays the power consumption of the devices that are plugged into the smart plugs. This way you can control and monitor your smart home devices at any time.
Requirements / Restrictions
iOS 14.0 or later or Android 9.0 or later is installed on the smartphone or tablet.
The latest FRITZ!OS is installed on the FRITZ!Box.
Note:All instructions on configuration and settings given in this guide refer to the latest FRITZ!OS for the FRITZ!Box.
1 Configuring the FRITZ!Box to allow access for applications
In the factory settings, the FRITZ!Box is configured to allow applications to access it. If you changed the FRITZ!Box's settings, grant applications access to the FRITZ!Box again:
Click "Home Network" in the FRITZ!Box user interface.
Click "Network" in the "Home Network" menu.
Click on the "Network Settings" tab.
Enable the option "Allow access for applications" in the section "Access Settings in the Home Network". If the section is not displayed, enable the Advanced View first.
Click "Apply" to save the settings.
2 Setting up a Wi-Fi connection to the FRITZ!Box
When setting up the app, the smartphone or tablet must be connected with the FRITZ!Box's Wi-Fi network (not the guest network):
3 Installing FRITZ!App Smart Home
Download

FRITZ!App Smart Home

from the Google Play Store or the Apple App Store and install the app on your smartphone.
Start

FRITZ!App Smart Home

.
Enter the FRITZ!Box password. If you are asked to enter a username and password, enter the account information of a FRITZ!Box user who is authorized to use

FRITZ!App Smart Home

.

Note:You can edit the account information and access rights of users under "System > FRITZ!Box Users" in the user interface.

On the FRITZ!Box, confirm that the procedure may be executed, if you are asked to do so.