To the knowledge base
Knowledge document #239
FRITZ!Fon X6
This support document is available for the following products:
Using a headset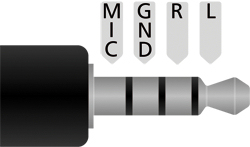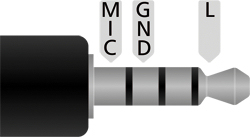 With your FRITZ!Fon, you can not only make hands-free calls using the "hands-free calling" function, you can also use a headset. The telephone has a socket for 3.5 mm jack plugs on its side. If the headset is plugged in or unplugged during a call, the call may be disconnected. With wired headsets, hanging up is triggered by a short circuit between GND and MIC. Plugging the headset in and out can also cause this short circuit.
Standard headsets for mobile telephones with an earphone impedance of 32 Ohms and a microphone impedance in the range of 800-2200 ohms (+/- tolerance) are suitable. You can use stereo or mono headsets with the assignment shown on the right, although playback is always in mono. The mechanical protection of the plug should not exceed 7 mm to ensure good contact.