To the knowledge base
Knowledge document #3414
FRITZ!Box 7583 VDSL
This support document is available for the following products:
Saving settings of smart home devices in templates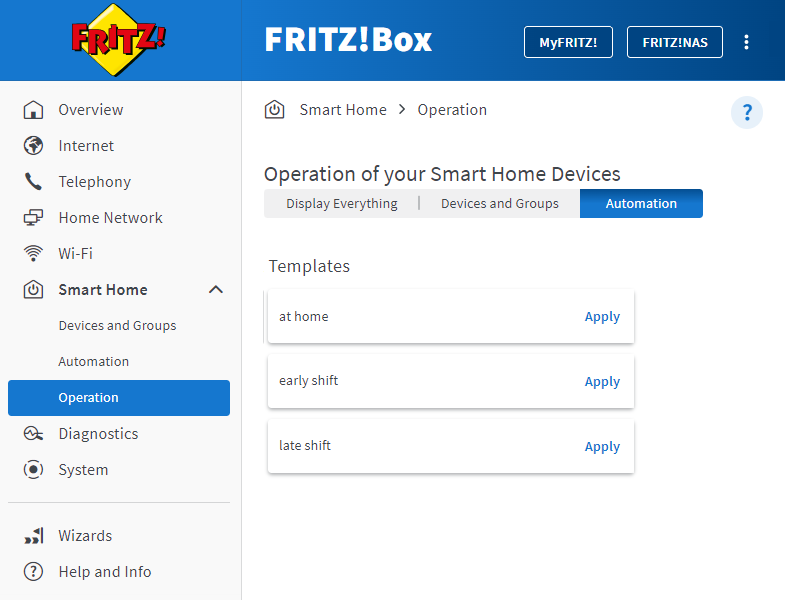 You can save the individual settings of your smart plugs and radiator controls, for example FRITZ!DECT 200 or FRITZ!DECT 301, and LED lights FRITZ!DECT 500 in different templates. In addition, you can save convenience features, for example switching Wi-Fi on/off, starting telephone calls, as a template.
Simply select the appropriate template as required and click to enable the desired settings. You can use templates to switch either individual smart home devices or groups. You can enable the template with the user interface of your FRITZ!Box, a FRITZ!DECT smart switch, with FRITZ!Fon, and with FRITZ!App Smart Home. In a scene you can combine several templates and use a routine to switch them automatically.
For example, if you work shifts, you can save different heating and switching profiles in corresponding templates for early and late shift and then quickly switch between these templates at any time.
Note:All instructions on configuration and settings given in this guide refer to the latest FRITZ!OS for the FRITZ!Box.
1 Creating a template  
Click "Smart Home" in the FRITZ!Box user interface.
Click "Automation" in the "Smart Home" menu.
Click "Create Scene or Template".
Click "Template" and then "Next".
Select the group of devices that you want to switch or select "Use convenience features". As a convenience feature you can switch the Wi-Fi guest access or start a telephone call, for example.

Note:Only devices of the same kind, i.e. smart plug/LED light or radiator control, can be switched together in a template.
If a device is already assigned to a group, you cannot assign just the device to a template; you must assign the entire group to a template.

Select the desired settings or configure the desired switching.
Enter a name for the template and then save the template.
2 Applying a template  
Important:When a template is applied, the current settings of the smart home devices and groups included in the template are overwritten.
Click "Smart Home" in the FRITZ!Box user interface.
Click "Operation" in the "Smart Home" menu.
Click "Applying" for the desired template.