To the knowledge base
Setting up FRITZ!Box for use with a Scarlet line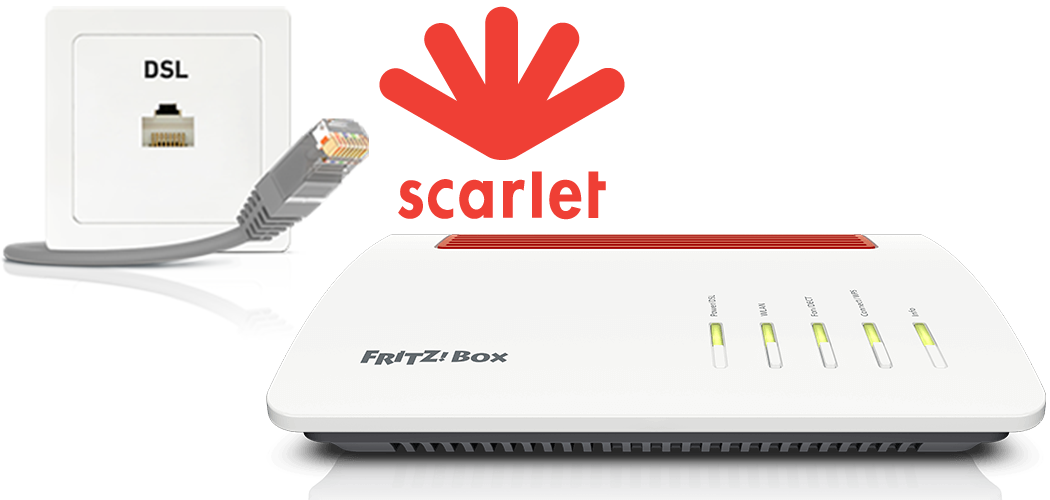 To use the FRITZ!Box with a Scarlet line, simply connect it to the DSL line and enter your personal account information in the FRITZ!Box user interface.
The complete FRITZ!Box range of functions for internet and multimedia is then available to all of the devices in your home network without restriction.
Important:According to our information, Scarlet currently only supports telephony with routers that they provide themselves. If we find out that telephone numbers from Scarlet can be configured in the FRITZ!Box, we will update this guide.
Requirements / Restrictions
A FRITZ!Box certified for the Belgian VDSL network must be used with DSL lines (for example, FRITZ!Box 7590 and FRITZ!Box 7530 are certified, see Which modems can I use).
1 Having your account information ready
Have your personal account information for internet access that you received from Scarlet ready.

Note:Scarlet sent you the account information via email after you concluded the contract with them. If you did not receive your account information, contact Scarlet.
2 Connecting the FRITZ!Box
3 Configuring the internet connection in the FRITZ!Box
Click "Wizards" in the FRITZ!Box user interface.
Enter the FRITZ!Box password on the underside of the device and click "Log In".
If the wizard for internet access does not start automatically, click "Wizards" and then "Configure the Internet Connection".

Calling up the FRITZ!Box wizard

Select "Scarlet VDSL" or "Scarlet VDSL with TV from the drop-down list.
Click "Next" and follow the wizard's instructions.
Now the FRITZ!Box checks whether the internet connection can be established. Configuration is complete as soon as the message "The internet connection check was successful" is displayed.

Important:If the internet connection check fails, your internet access may not have been activated yet. In this case, contact Scarlet.