To the knowledge base
Knowledge document #252
FRITZ!Box 7360
This support document is available for the following products:
Setting up a VPN to the FRITZ!Box on an iPhone or iPad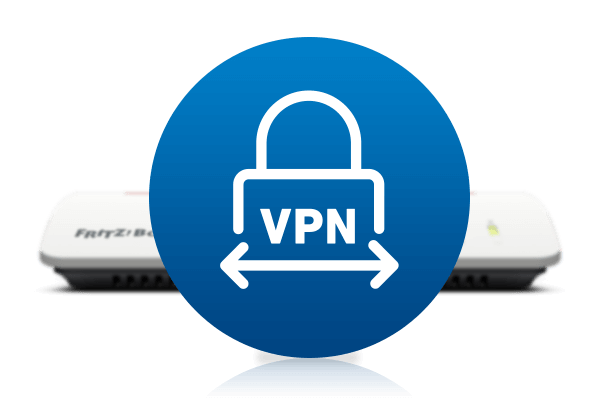 Via VPN (Virtual Private Network), you connect your iPhone or iPad with your FRITZ!Box over a secure, encrypted connection. This allows you to access your FRITZ!Box and all devices in your home network with your Apple device even when you are away from home.
In addition, the Apple device also forwards all web requests over the VPN connection to your FRITZ!Box. This means you can use sensitive services such as email or online banking in public Wi-Fi hotspots just as securely as if you were directly connected to your FRITZ!Box via Wi-Fi at home.
Requirements / Restrictions
iOS 3.1 or later is installed on the iPhone or iPad.
Note:All instructions on configuration and settings given in this guide refer to the latest FRITZ!OS for the FRITZ!Box.
1 Preparations
Configuring MyFRITZ!
Register the FRITZ!Box with MyFRITZ! so that it can be reached on the internet at any time at a fixed MyFRITZ! address:
Adjusting the FRITZ!Box's IP network
Both ends of the VPN connection must have IP addresses in different IP networks. As soon as the iPhone or iPad is connected to a router (for example another FRITZ!Box) that uses the same IP network as your FRITZ!Box, VPN communication is no longer possible.
Note:All FRITZ!Boxes use the IP network 192.168.178.0 in the factory settings.
Set up an IP address to your FRITZ!Box that differs from the IP addresses of the routers you use to connect to the FRITZ!Box, for example 192.168.10.1 (subnet mask 255.255.255.0):
Click on "Home Network" in the FRITZ!Box user interface.
Click on "Home Network Overview" in the "Home Network" menu.
Click on the "Network Settings" tab.
Click on the "IPv4 Addresses" button. If the button is not displayed, enable the Advanced View first.
Enter the desired IP address and subnet mask.
Click on "OK" to save the settings.
2 Setting up a VPN connection in the FRITZ!Box
Set up a separate user for each VPN connection in the FRITZ!Box:
Click "System" in the FRITZ!Box user interface.
Click "FRITZ!Box Users" in the "System" menu.
Click the (Edit) button for the user who intends to connect to the FRITZ!Box via VPN or set up a new user for the VPN connection:

Click the "Add User" button.
Enter a name and password for the user in the corresponding fields.

Enable the option "VPN".
Click "OK" to save the settings.
Now the FRITZ!Box sets up the VPN connection for the user and opens a window with the VPN settings of the user.

Note:You can always call up the VPN settings again by clicking "Show VPN Settings" in the settings for the user under "System > FRITZ!Box Users".
3 Configuring a VPN connection in an iPhone / iPad
Set up the VPN connection on the iPhone or iPad using the VPN settings displayed for the FRITZ!Box user in the FRITZ!Box user interface:

Fig.: Setting up a VPN connection
4 Establishing a VPN connection
Tap the "Settings" symbol on the home screen.
Use the on/off slider to enable "VPN":

Fig.: Establishing a VPN connection

The VPN connection is established as soon as the VPN symbol is displayed in the status bar:

Fig.: VPN connection is established