To the knowledge base
Knowledge document #16
FRITZ!Box 4040
This support document is available for the following products:
Setting up the FRITZ!Box for use with a cable connection
You want to connect a cable modem to the FRITZ!Box? ✔ It's easy with this guide.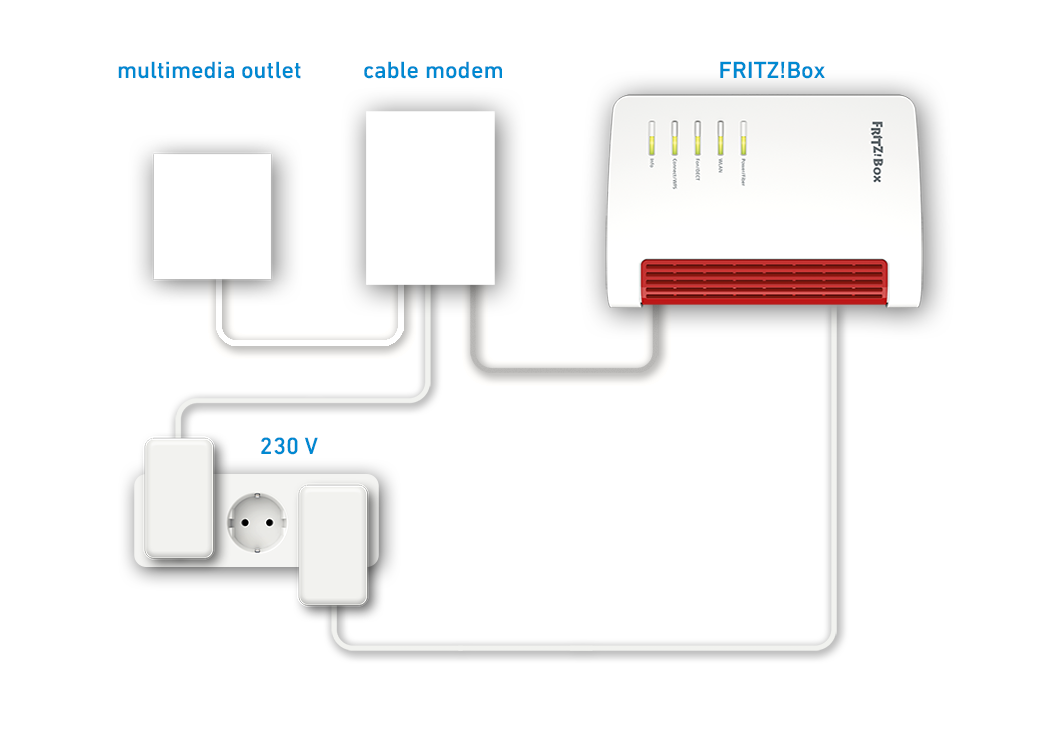 The FRITZ!Box is already configured for use with a cable modem in the factory settings. You only have to connect the FRITZ!Box to the cable modem, and then you can access the internet using the FRITZ!Box without having to configure any settings first.
Since the FRITZ!Box controls its own internet connection over the cable modem, all FRITZ!Box functions (such as firewall, parental controls) are also available without restriction in this operating mode.
If you changed the settings of the FRITZ!Box, configure the FRITZ!Box for use with a cable modem as described in this guide.
Note:All instructions on configuration and settings given in this guide refer to the latest FRITZ!OS for the FRITZ!Box.
1 Connecting a cable modem
Either connect the cable modem to the first multimedia socket or to the socket that the cable technician used for the original installation. Only use the coaxial cable (without an extension) provided by the cable technician to connect it.
2 Configuring the cable modem
The following step is only necessary if your cable provider supplied you with a wireless cable router with integrated cable modem instead of a cable modem, but you do not use the cable router's Wi-Fi network:
If possible, enable the so-called bridge mode for the wireless cable router in your cable provider's customer center or in the cable router's user interface.


Note:In bridge mode, the cable router acts as a simple cable modem, so you will not experience problems when accessing the FRITZ!Box from the internet, for example. You may not be able to use hotspot services offered by your cable provider when bridge mode is enabled.
3 Configuring the internet connection in the FRITZ!Box
Preparations
If the FRITZ!Box is connected to the cable modem, clear the connection between the cable modem and the FRITZ!Box, then restart the cable modem.

Note:You can restart the cable modem by briefly unplugging it. It may take several minutes for the cable modem to restart.
Configuring the FRITZ!Box
Open the FRITZ!Box user interface.
Enter the FRITZ!Box password on the bottom of the device and click "Log In".
Click "Internet" and then "Account Information".
Select "Cable modem or internet router" from the drop-down list "Internet connection via".
Enter the speeds of your internet connection in the "Downstream" and "Upstream" fields.
Use a network cable to connect the cable modem to the "WAN" port on the FRITZ!Box and click "Apply" to save the settings.
Now the FRITZ!Box establishes its internet connection over the cable modem. Configuration is completed when the message "The procedure was concluded successfully" is displayed.
Help topics:
Related topics: