To the knowledge base
Knowledge document #1189
FRITZ!Box 4020
This support document is available for the following products:
Opening the FRITZ!Powerline user interface
You can easily open the user interface of your FRITZ!Powerline adapter on all computers, smartphones, or tablets in the home network using the Mesh Overview of your FRITZ!Box under "Home Network > Mesh". To do so, enter the address http://fritz.box in the web browser. You can configure all of the functions and view detailed information about the product, your access, and connections in the user interface.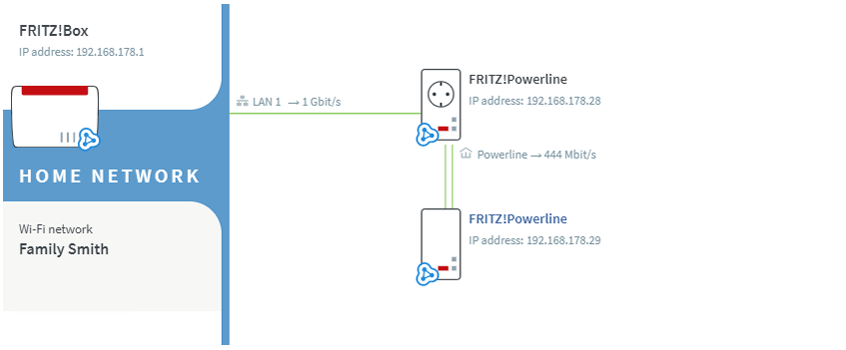 Fig.: Clicking on the device name opens the user interface of the FRITZ!Powerline adapter
Please note:
To open the user interface of the FRITZ!Powerline adapter with the FRITZ!Box's Mesh Overview, the FRITZ!Powerline adapter must be connected with your FRITZ!Box.
If you have not yet connected the FRITZ!Powerline adapter to your FRITZ!Box or are using the FRITZ!Powerline adapter with another router, you can either enter http://fritz.powerline or the IP address (http://192.168.178.2 in the factory settings) to open the user interface.
Always enter the complete address http://fritz.powerline. If you enter the address without the "http://", for example, the web browser may start a web search instead of opening the user interface.

Fig.: Entering the complete address of the user interface in the address field of the web browser