FRITZ!Repeater N/G Service - Knowledge Base
FRITZ!Repeater N/G Service
Connecting FRITZ!WLAN Repeater with a FRITZ!Box via guest access
The FRITZ!WLAN Repeater can not only extend the range of your private wireless network, it can also extend the range of the guest network of the FRITZ!Box. This way you can also offer your guests internet access at an even greater distance from the FRITZ!Box, without allowing them to access your home network or the FRITZ!Box user interface.
Set up the wireless connection between the FRITZ!WLAN Repeater and the guest network manually because the WPS method (Wi-Fi Protected Setup) can only be used to set up a wireless connection to your private wireless network.
1 Preparations
Before you can configure the following settings, you must return the FRITZ!WLAN Repeater to its factory settings:
2 Connecting the FRITZ!WLAN Repeater with a FRITZ!Box
Use a wireless device (for example a notebook, smartphone) to search for wireless networks in the vicinity.
Connect it to the wireless network "FRITZ!WLAN Repeater N/G". Enter

00000000

(8 zeros) for the network key.
Follow the wizard's instructions and connect the repeater with the wireless guest network of your FRITZ!Box.
Now the repeater establishes a wireless connection to the guest network of your FRITZ!Box. The procedure is completed when the icon "WLAN field strength" is displayed on the repeater's LED display.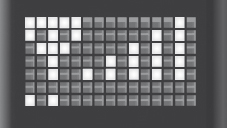 Fig.: "Wireless LAN field strength" icon
3 Opening the user interface of FRITZ!WLAN Repeater
When the repeater is connected to the FRITZ!Box's wireless guest access, then only wireless devices that are also connected to the guest access can open its user interface:
Establish a connection to the wireless network.