FRITZ!WLAN Repeater N/G Service - Knowledge Base
FRITZ!WLAN Repeater N/G Service
Not your product?
This document is also available for the following products:
Connecting the FRITZ!WLAN Repeater with a router (e.g. FRITZ!Box) using wireless LAN
Connect your FRITZ!WLAN Repeater with the wireless router in your home network to increase the wireless range easily and efficiently.

Fig.: Connection scenario for FRITZ!WLAN Repeater
Follow the instructions in the section that describes the desired scenario.
1 Using WPS to set up the wireless connection
If you are using a FRITZ!Box or a different wireless router that supports WPS, you can connect them safely and conveniently at the push of a button:
Note:For the instructions on connecting with WPS (Wi-Fi Protected Setup), we used a FRITZ!Box as an example. Should you have questions on using PBC (Push Button Configuration) with other wireless routers that support WPS, consult the respective manufacturer.
Plug the repeater into an outlet near the FRITZ!Box to configure it.
Push the middle of the "Run WPS for the first time" icon on the repeater's LED display until the "WPS" icon starts to flash.


Fig.: "Run WPS for the first time" icon

Start the WPS function on the FRITZ!Box within two minutes. To do so, push and hold the "Connect", "WPS", "WLAN/WPS", or "WLAN" button on the FRITZ!Box until the "WLAN" LED starts to flash.
Now the wireless connection between the FRITZ!WLAN Repeater and the FRITZ!Box is set up.
2 Setting up the wireless connection manually
If your wireless repeater does not support the WPS procedure, use the Configuration Wizard to set up the connection manually:
Loading the repeater's factory settings
The repeater must be set to factory settings in order to configure the following settings. If this is not the case, load the factory settings first:
Connecting a wireless device to the repeater
Plug the repeater into an outlet near the wireless router to configure it.
Use a wireless device (for example a notebook, tablet, smartphone) to search for wireless networks in the vicinity.
Connect it to the wireless network "FRITZ!WLAN Repeater [...]". Enter

00000000

(8 zeros) for the wireless network (password).
Configuring the repeater
Click "Wizards" in the user interface of the FRITZ!WLAN Repeater.
Click "Register Repeater".
Click "Next" on the Welcome page.
From the list, select the wireless network of your wireless router that you would like to extend and click "Next".
Select the encryption type, enter the wireless router's network key and click "Next".
Click "Apply" to save the settings.
The wireless connection between the repeater and the FRITZ!Box is completely configured as soon as the "wireless LAN field strength" icon (see fig.) appears. You can then unplug the repeater and plug it in wherever you want. All of the settings will remain intact.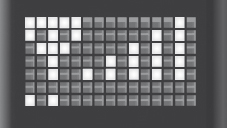 Fig.: "Wireless LAN field strength" icon