FRITZ!Powerline 1260E Service - Knowledge Base
FRITZ!Powerline 1260E Service
Not your product?
This document is also available for the following products:
Accessing FRITZ!Powerline over the internet
With MyFRITZ!App 2 you can easily access all of the FRITZ! products in your home network over the internet, regardless of whether you have an additional FRITZ!Box, a FRITZ!Repeater, or FRITZ!Powerline adapter. Simply install MyFRITZ!App 2 on your smartphone or tablet. Then you can establish a connection to your FRITZ!Box under "Home Network" in MyFRITZ!App 2 and open the user interfaces of the other FRITZ! products.
Instead of using MyFRITZ!App 2, you can also establish a VPN connection to your FRITZ!Box; for example, you can use the https://en.avm.de/service/vpn/overview/FRITZ!VPN software on Windows computers and access your FRITZ! products via the FRITZ!Box's mesh or home network overview.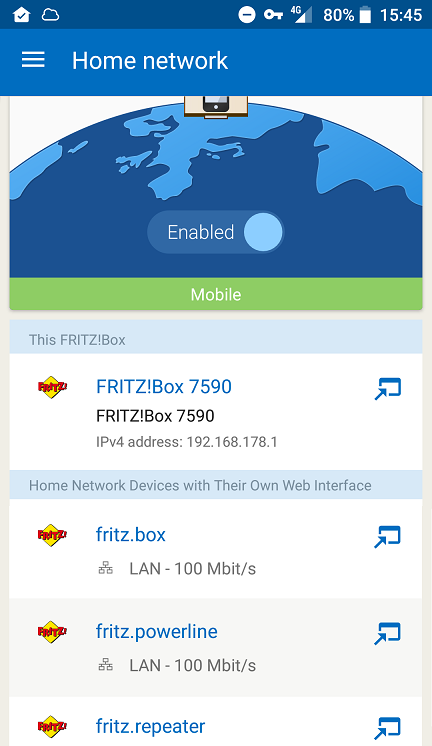 Fig.: "Home network devices with their own web interface" in MyFRITZ!App