FRITZ!Box 7583 Service - Knowledge Base
FRITZ!Box 7583 Service
Not your product?
This document is also available for the following products:
Suitable power adapters for the FRITZ!Box
Not every FRITZ!Box power adapter is suitable for every FRITZ!Box model. The FRITZ!Box may malfunction if you use an unsuitable power adapter. Therefore, only use power adapters with your FRITZ!Box that are supplied by AVM and provide the required power. You can find the power specifications on the type label on the underside of your FRITZ!Box.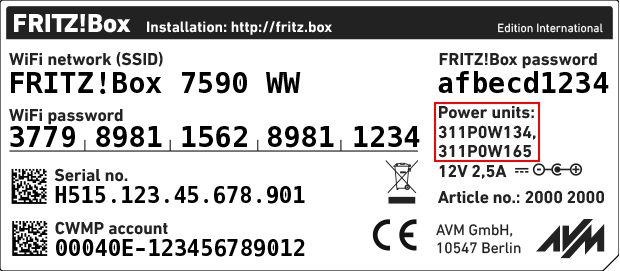 Fig.: Power specifications for the adapter
The voltage (V) given on the FRITZ!Box and the power adapter must be identical. The amperage (A), on the other hand, is a minimum value; that means that the power adapter must provide at least the amperage required by the FRITZ!Box. If the amperage rating on the power adapter is higher than that required by the FRITZ!Box, this is not a problem. In this case, the power adapter just does not work at full capacity.
Examples:
FRITZ!Box 7590 requires 12V/2.5A and cannot be used with a 12V/2.0A power adapter.
FRITZ!Box 7560 requires 12V/2.0A and can be used with a 12V/2.5A power adapter.
FRITZ!Box 7312 requires 5V/1.6A and may not be used with a 12V/2.0A power adapter under any circumstances.