FRITZ!Box 7582 Service - Knowledge Base
FRITZ!Box 7582 Service
Not your product?
This document is also available for the following products:
Determining the password for the FRITZ!Box user interface
The user interface of your FRITZ!Box is protected with a unique password the factory settings. The FRITZ!Box password is located on the bottom of the FRITZ!Box.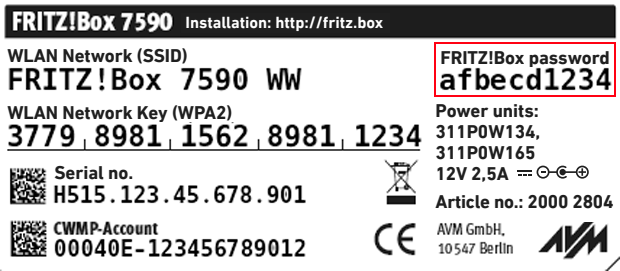 Default password for the FRITZ!Box user interface
With the FRITZ!Box password, you can call up the user interface on all of the devices that are connected to the FRITZ!Box. To connect a device via Wi-Fi, you need the network key, which is also on the bottom of the device. You can then change settings in the user interface and change the network key or default password.
If you changed the FRITZ!Box password and then forgot it, there is no way to find out what it is. Therefore, it is best to configure the "forgot password" push service right away, so you can simply have the password sent to you by email. If you forget the password and did not configure the push service, you cannot open the user interface again until you have restored the factory settings.