FRITZ!Box 7530 Service - Knowledge Base
FRITZ!Box 7530 Service
Not your product?
This document is also available for the following products:
What do the letters after the product name mean?
The two letters after the FRITZ!Box's product name on the type label on the underside of the device help you distinguish the FRITZ!Box's wireless network from the wireless network of an identical FRITZ!Box model.
The FRITZ!Box already has individual wireless settings in the factory settings that are printed on the type label. This way, every single FRITZ!Box is equipped with its own network key out of the box, and is already protected against unauthorized access when using it for the first time. The product name is used as the wireless network name (SSIDs), followed by two randomly generated letters (for example "FRITZ!Box 7590 XY"). If you do not want to use the FRITZ!Box's factory settings, you can simply change the preset name of the wireless network.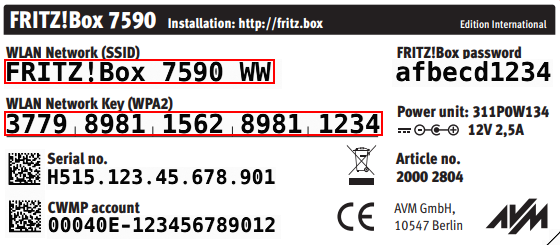 Fig.: FRITZ!Box's type label with wireless network name and network key