FRITZ!Box 7430 Service - Knowledge Base
FRITZ!Box 7430 Service
Not your product?
This document is also available for the following products:
Web browser reports "This connection is not secure" when opening the user interface
The web browser (for example Mozilla Firefox) reports "This connection is not secure. Logins entered here could be compromised" when you enter the password to open the FRITZ!Box user interface.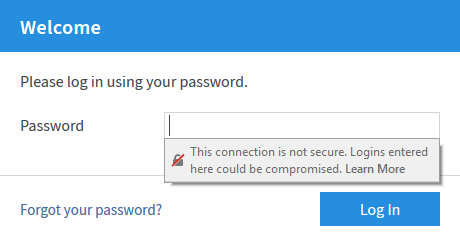 Fig: Web browser message
Ignore the message
Current browsers, such as Mozilla Firefox version 52.0 or higher, display this message to warn you about transmitting passwords over an internet connection that is not encrypted.
The connection between your web browser and the FRITZ!Box user interface http://fritz.box is not encrypted, but it is only established over your private home network and not over the internet. Since this means that your password is not transmitted over the internet without encryption, you can ignore the message:
Enter your password,

or, if you saved your password in the web browser:

Click "No username" to enter the saved password automatically.