FRITZ!Box 6810 LTE Service - Knowledge Base
FRITZ!Box 6810 LTE Service
Not your product?
This document is also available for the following products:
Setting up MyFRITZ! accesses
MyFRITZ! Accesses allow you to use any web browser to access browser-based applications in the FRITZ!Box home network, such as a web server or graphic interface of a NAS system, over the Internet at any time. In this case, the FRITZ!Box's firewall continues to protect your home network from unwanted data from the Internet.
Requirements / Restrictions
The FRITZ!Box must obtain a public IPv4 address or an IPv6 address from the Internet service provider.
You must be able to access the server service with a web browser (for example Chrome, Firefox, Internet Explorer).
Important:Some of the settings described here are only displayed if the advanced view is enabled in the user interface. The configuration procedure and notes on functions given in this guide refer to the latest FRITZ!OS. 
1 Preparations
Setting up a MyFRITZ! account and configuring it in the FRITZ!Box
Determining the port and Internet protocol
Determine the Internet protocol and port the server service uses to accept incoming connections. Refer to the manufacturer for this information, for example consult the manual.
Configuring the computer's firewall
If the server service is installed on a computer with its own firewall (for example Windows firewall), you must also configure the firewall:
Configure the computer's firewall according to the manufacturer's instructions so that the server service can be accessed from the FRITZ!Box home network and the Internet.
2 Setting up MyFRITZ! Accesses
Click "Internet" in the FRITZ!Box user interface.
Click "Permit Access" in the "Internet" menu.
Click "New MyFRITZ! Access".
From the "Network device" drop-down list, select the device that is running the server service.
From the "Application" drop-down list, select the server service (HTTP Server, HTTPS Server, FTP Server) you would like to release for access via MyFRITZ!.

If you would like to set up a MyFRITZ! Access for a different server service, select "Other application" and enter the following information:

Enter a name of your choice for the MyFRITZ! Access in the "Name" field.
Select the Internet protocol for accessing the server service from the "Scheme" drop-down list. If you would like to configure a sharing for a different Internet protocol, select "Manual entry" and enter the access scheme (for example "ftps://").
Under "Port", enter the number of the port on which the server service will listen for incoming connections from the Internet.

Enter a directory in the "Directory (optional)" field (for example \\Folder1\Folder2\) if required by the server service.
Click "OK" to save the settings.
Now the MyFRITZ! address that you can use to access the server service from the Internet is displayed in the FRITZ!Box user interface under "Internet > Permit Access > MyFRITZ! access settings".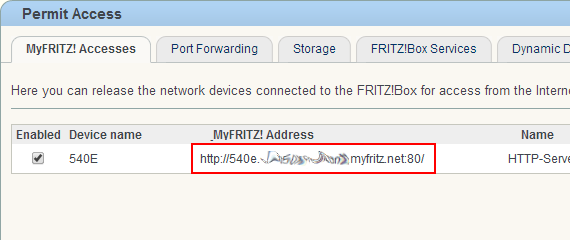 Fig.: MyFRITZ! access link